The Middlesbrough Web Consultancy Group have apparently issued a defamation claim against my review comments resulting in Google removing this website for related SERPs.
Interestingly the reason for noticing the defamation notice is earlier today I received another SPAM email from what appears to be the same people (same town and phone number, different email address/URL linked to).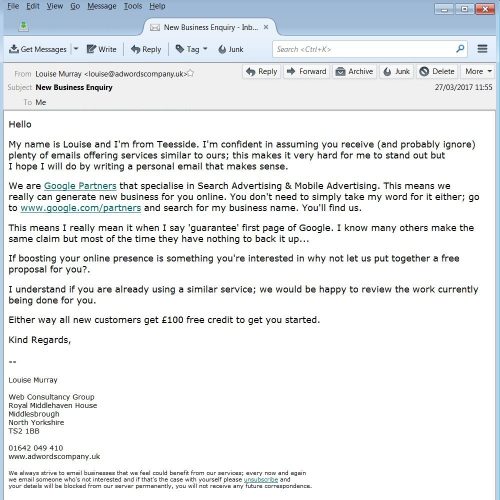 email: louise@adwordscompany.uk
Subject : New Business Enquiry

Hello

My name is Louise and I'm from Teesside. I'm confident in assuming you receive (and probably ignore)
plenty of emails offering services similar to ours; this makes it very hard for me to stand out but
I hope I will do by writing a personal email that makes sense.

We are Google Partners that specialise in Search Advertising & Mobile Advertising. This means we
really can generate new business for you online. You don't need to simply take my word for it either; go
to www.google.com/partners and search for my business name. You'll find us.

This means I really mean it when I say 'guarantee' first page of Google. I know many others make the
same claim but most of the time they have nothing to back it up…

If boosting your online presence is something you're interested in why not let us put together a free
proposal for you?.

I understand if you are already using a similar service; we would be happy to review the work currently
being done for you.

Either way all new customers get £100 free credit to get you started.

Kind Regards,

—
Louise Murray

Web Consultancy Group
Royal Middlehaven House
Middlesbrough
North Yorkshire
TS2 1BB

01642 049 410
# www.adwordscompany.uk

We always strive to email businesses that we feel could benefit from our services; every now and again
we email someone who's not interested and if that's the case with yourself please unsubscribe and
your details will be blocked from our server permanently, you will not receive any future correspondence.
This was sent to one of my old email addresses attached to the domain which I haven't used in a while. The email address only receives SPAM.
Update May 2017 : This SPAM email was sent from the business Web Consultancy Group Ltd (https://beta.companieshouse.gov.uk/company/07924238) located at 21 Gosford St, Middlesbrough, TS2 1BB.
David Law
Note: Originally added as a comment to Web Consultancy Group AdWords Review.
More Comments by Money Guy
---
Defamation Complaint by Web Consultancy Group Limited
Web Consultancy Group Ltd (https://beta.companieshouse.gov.uk/company/07924238) located at 21 Gosford St, Middlesbrough, TS2 1BB have made and achieved a second defamation complaint to Google regarding the DLH Web Consultancy Ltd Review …
---
Submitting a Counter Defamation Claim to Google
Update May 2017: I think I understand why the DMCA counter notification failed, I made the error of stating the now dissolved business DLH Web Consultancy Ltd (https://beta.companieshouse.gov.uk/company/08239559) located at …
---
---